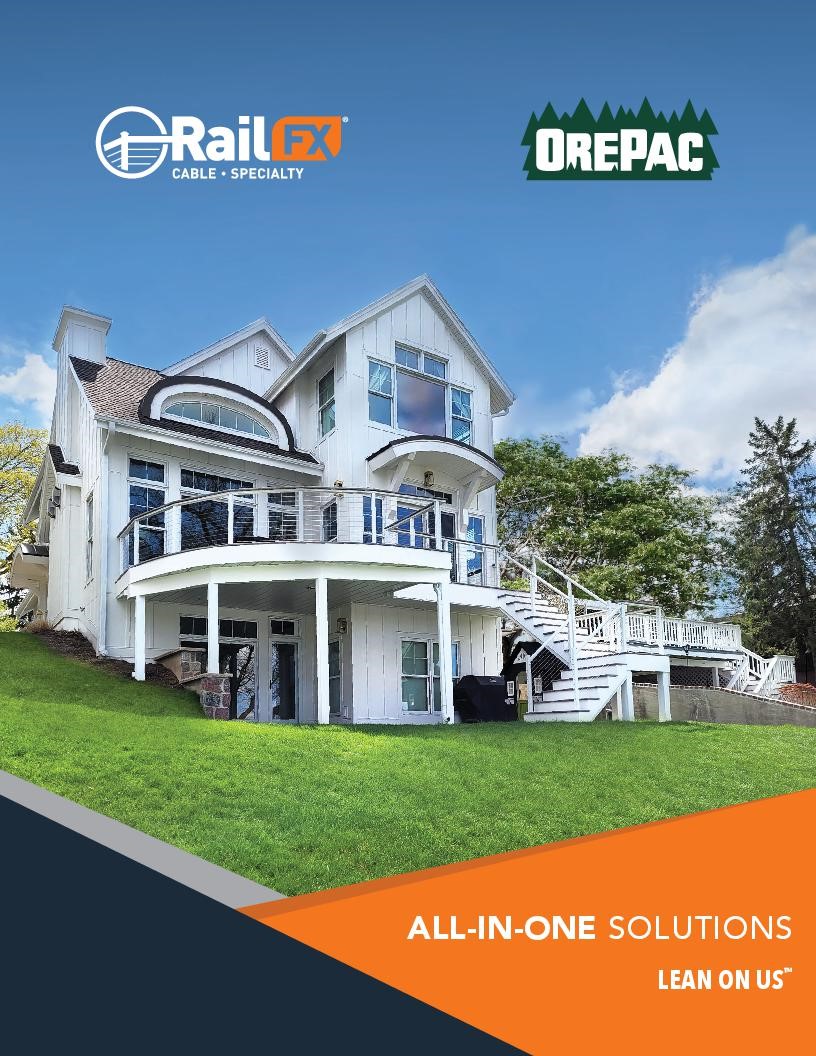 RailFX Aluminum Railing
Products PDF
RailFX aluminum railing systems are available in many configurations for a customizable look. Choose between CableFX, GlassFX, and PicketFX, along with a wide selection of top rail styles and mounting options. Able to be used in coastal applications, the powder-coated 6000-series aluminum provides superior durability, color retention, and corrosion resistance.
Composite, Decking, Railings
View More RailFX
Aluminum railing with cable, glass, and picket infill options
Exterior and interior railing applications
Offered in black, white, bronze, clear anodized, and custom colors
Top rails available in lengths up to 20 feet
Infill and fasteners included
Pre-drilled to conceal fittings and hardware
Quick and easy installation
No sanding, painting, staining or sealing required
Warranties Include: 10-Year Warranty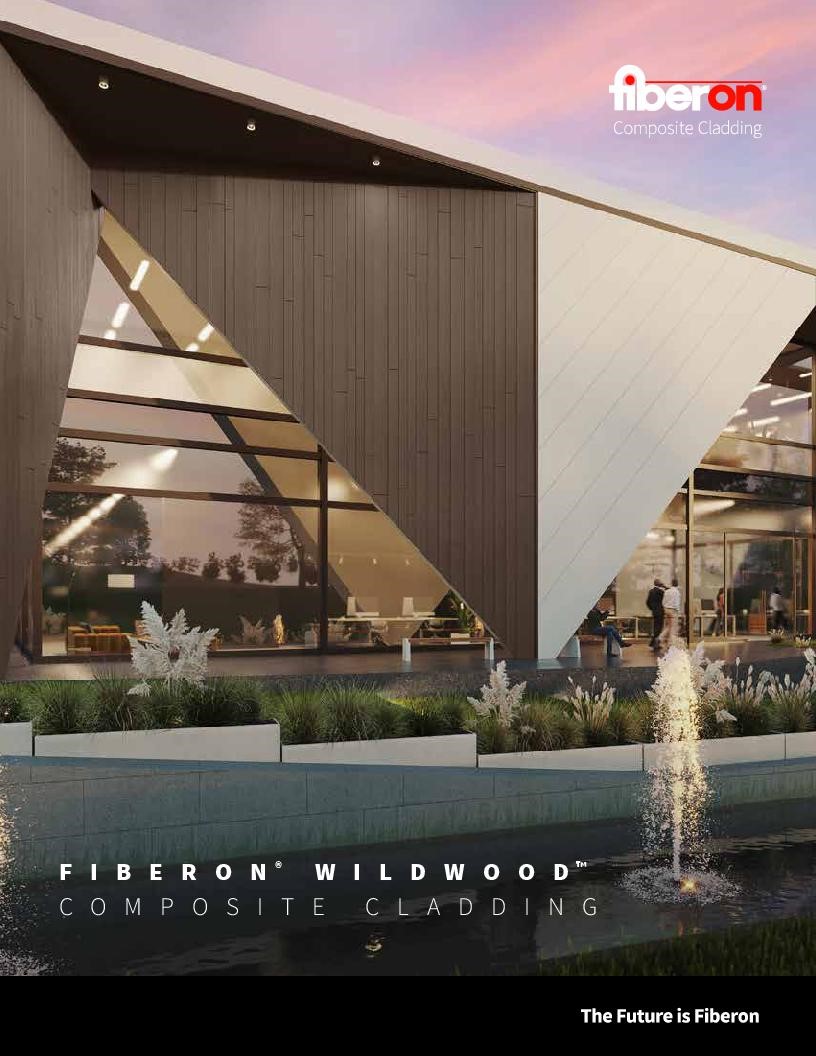 Fiberon Wildwood Cladding
Products PDF
Bring your vision to life with Fiberon Wildwood™ composite cladding. Available in two nature-inspired color collections that feature realistic embossing patterns and a wide variety of board lengths, Wildwood composite cladding provides you with endless opportunities to explore your creativity.

Learn how to install Fiberon Cladding in your next project.
Composite, Miscellaneous Commercial
View More Fiberon®
Offers a long-lasting, maintenance-free, sustainable alternative to traditional wood cladding
Available in a variety of board lengths and widths for more design solutions
Durable composite core ensures exceptional resistance to rotting, cracking, insects and decay
PermaTech® cap layer protects against fading and staining
Backed by a 50-year warranty covering stain, fade and performance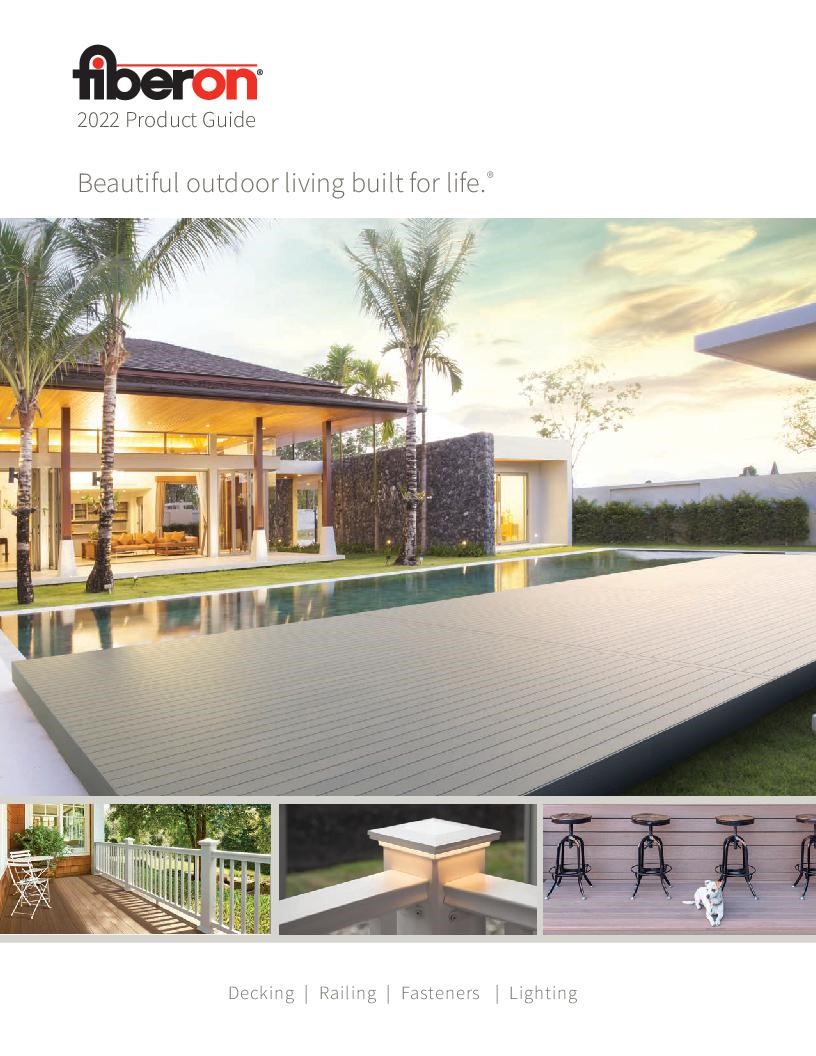 Fiberon Product Guide
Products PDF
Made with high-quality, eco-friendly materials, Fiberon decking, railing and cladding is outdoor living done right. Offering the look of wood without the time and expense of regular maintenance, Fiberon products provide beauty, strength and durability in a variety of stylish profiles and customizable looks.
Composite, Decking, Cladding, Railings, Fasteners
View More Fiberon®
Offered in an array of multi-tonal and solid colors
Cellular foam polymer (PVC) or composite core (PE) decking options
Composite railing with permanent PVC surface and aluminum railing options
Quick and easy installation
Many WUI-approved varieties
No sanding, painting, staining or sealing required
Less susceptible to insects, mold, mildew, moisture, cracking, and rotting
Eco-friendly and toxin free
Made in the USA
Warranty will vary based on selection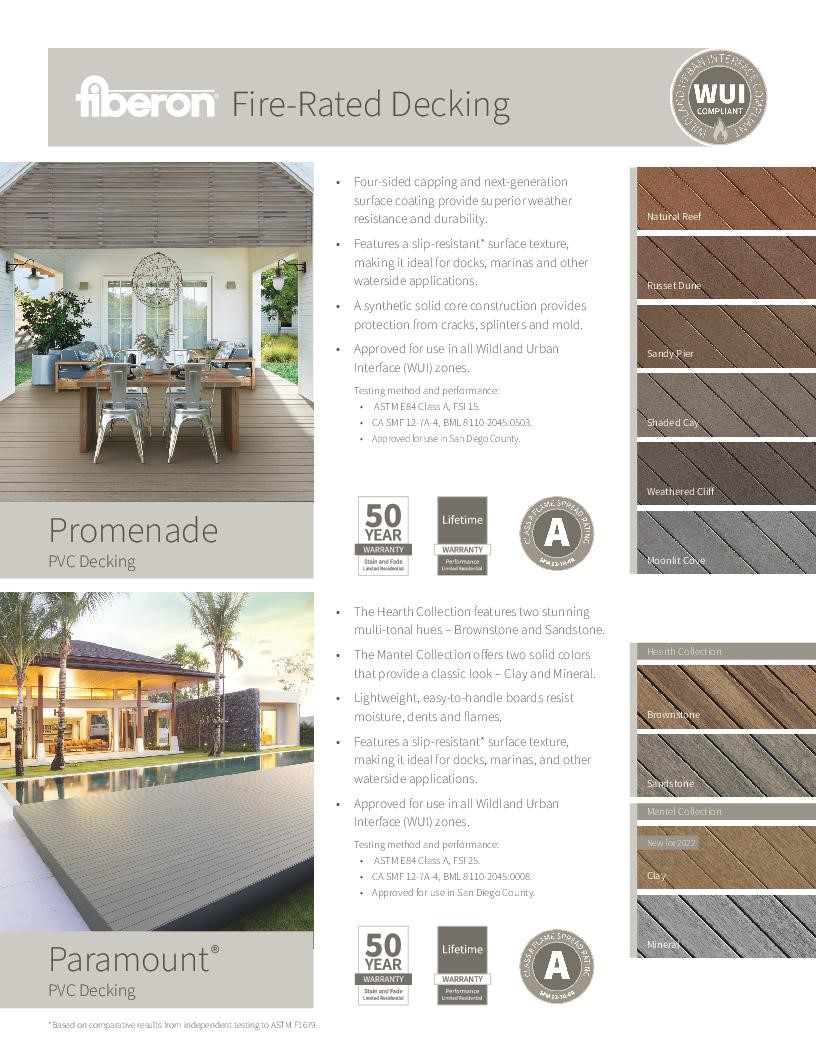 Fiberon Fire-Rated Decking
Products PDF
Approved for use in all Wildland Urban Interface (WUI) zones, Fiberon Fire-Rated Decking is made with a synthetic solid core construction and a slip-resistant surface texture with a next-generation surface coating, providing superior durability and protection from the elements.
Composite, Decking
View More Fiberon®
Features a slip-resistant surface texture, making it ideal for docks, marinas and other waterside applications
Multi-tonal colors create a realistic look similar to traditional wood deck boards
Three-sided PermaTech® cap layer resists fading
Strong composite construction resists splintering, rotting, cracking, insects and decay
Contains over 90% recycled content
Includes Promenade and Paramount PVC decking, as well as Sanctuary and Good Life composite decking
Up to a 50-year limited warranty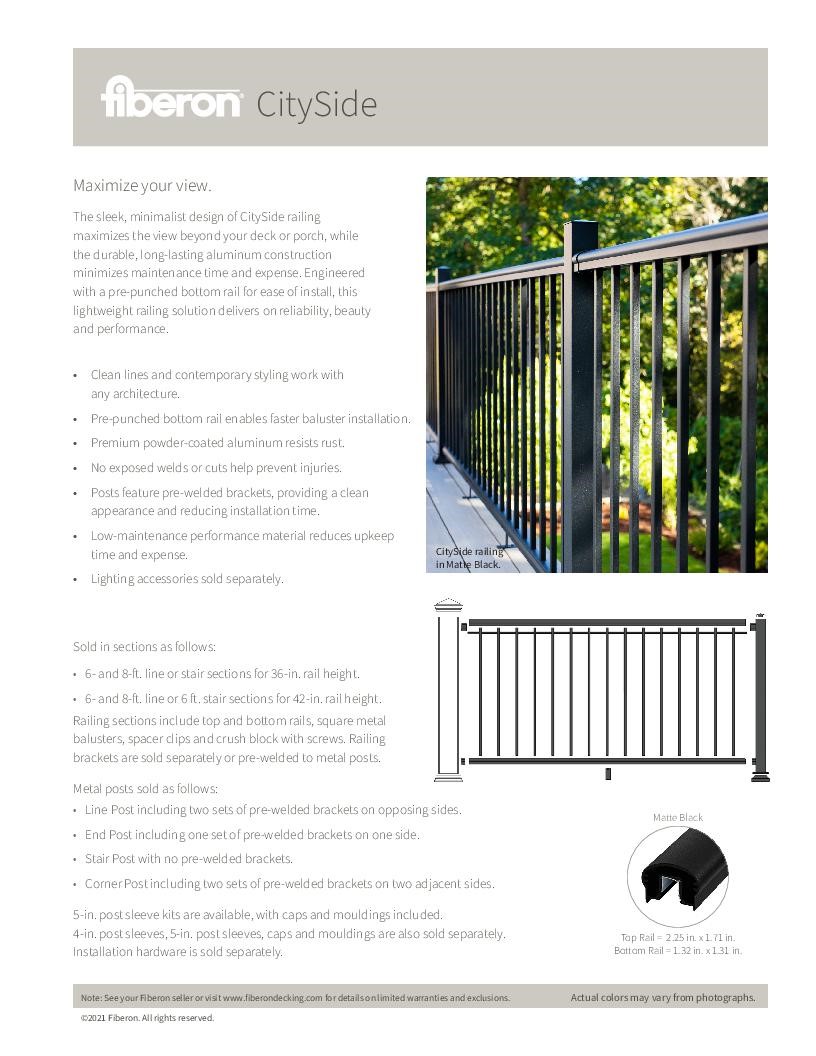 Fiberon CitySide Railing
Products PDF
The sleek, minimalist design of Fiberon CitySide railing maximizes the view beyond your deck or porch, while the durable, long-lasting aluminum construction minimizes maintenance time and expense. Engineered with a pre-punched bottom rail for ease of install, this lightweight railing solution delivers on reliability, beauty and performance.
Composite, Railings
View More Fiberon®
Clean lines and contemporary styling work with any architecture
Pre-punched bottom rail enables faster baluster installation
Premium powder-coated aluminum resists rust
No exposed welds or cuts help prevent injuries
Posts feature pre-welded brackets, providing a clean appearance and reducing installation time
Low-maintenance performance material reduces upkeep time and expense
Lighting accessories sold separately
25-year Limited Warranty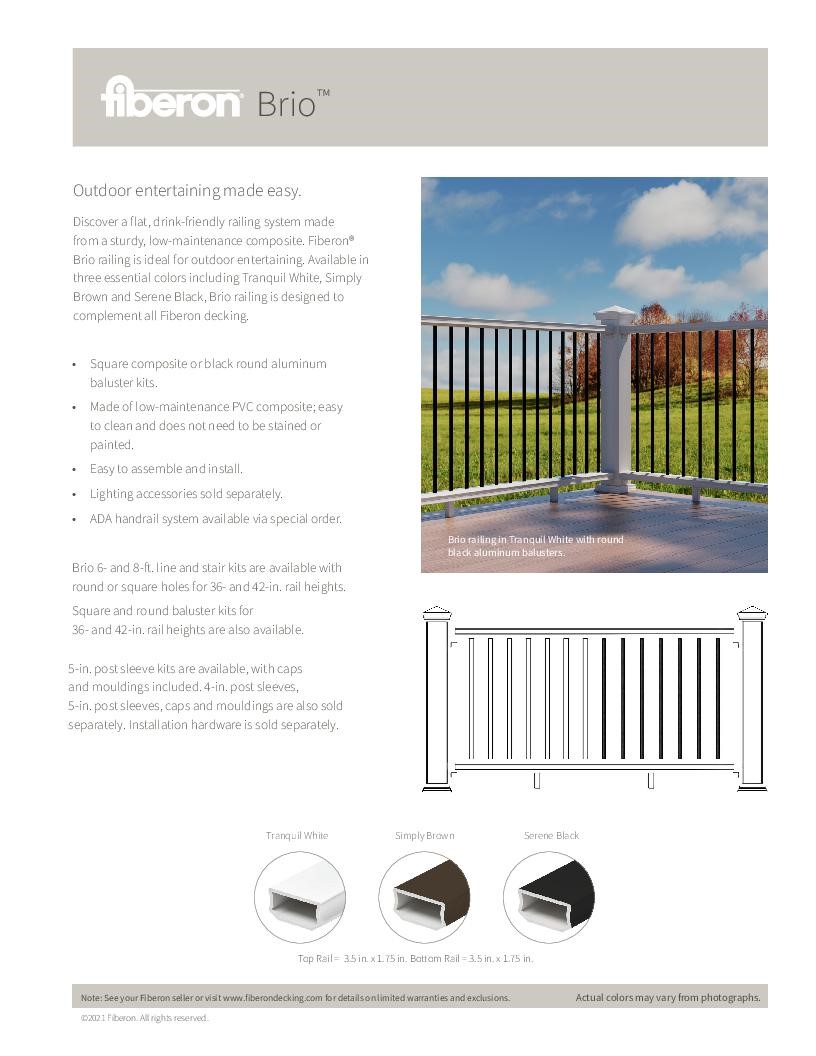 Fiberon Brio Railing
Products PDF
Discover a flat, drink-friendly railing system made from a sturdy, low-maintenance composite. Fiberon® Brio railing is ideal for outdoor entertaining. Available in three essential colors including Tranquil White, Simply Brown and Serene Black, Brio railing is designed to complement all Fiberon decking.
Composite, Railings
View More Fiberon®
Square composite or black round aluminum baluster kits
Made of low-maintenance PVC composite; easy to clean and does not need to be stained or painted
Easy to assemble and install
6- and 8-ft. line and stair kits
36- and 42-in. rail heights are also available
25-Year Limited Warranty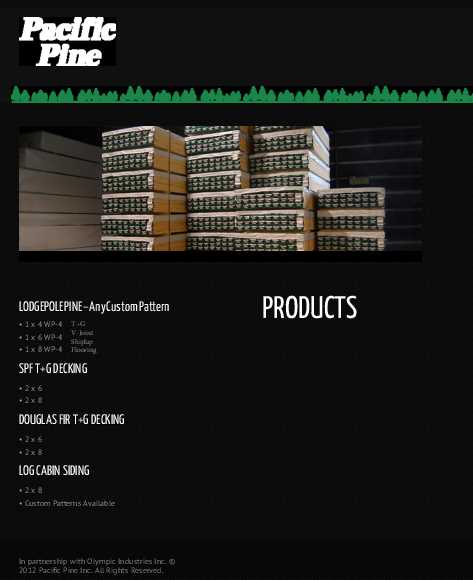 RA Green Lumber - Pacific Pine
Products PDF
The Pacific Pine collection from RA Green Lumber is available in siding (pattern stock: shiplap, log cabin, and v-groove paneling) and decking (tongue-and-groove and v-joint).